The first episode of the series Sen Çal Kapimi, (you knock my door/love is in the air is the English name of this new Turkish series), was broadcast on July 8, 2020. The new Turkish RomCom (Romantic Comedy) is aired by Fox Channel. The production of the series you knock my door (Sen çal Kapimi) relied on the acting duo, Hande Erçel and Kerem Bürsin to carry the series and the chemistry between the two actors is there.
Sen Çal Kapimi is a light-hearted summer series (all the details of the series in this article). This type of scenario has been seen several times in Turkish romantic series, but the comic aspect of Sen çal Kapimi turkish drama, as well as the charming duo Kerem Bürsin and Hande Erçel make it possible to spend a pleasant moment while watching the series.
The Fox channel, broadcast this first episode of Sen Çal Kapimi,  you knock my door, without commercial breaks and rebroadcast it several times during the first week. This episode had good results in terms of audience ratings.
Sen Çal Kapimi, synopsis (plot) of the series you knock my door
Eda is a bright young woman who was destined for a career as a landscape architect.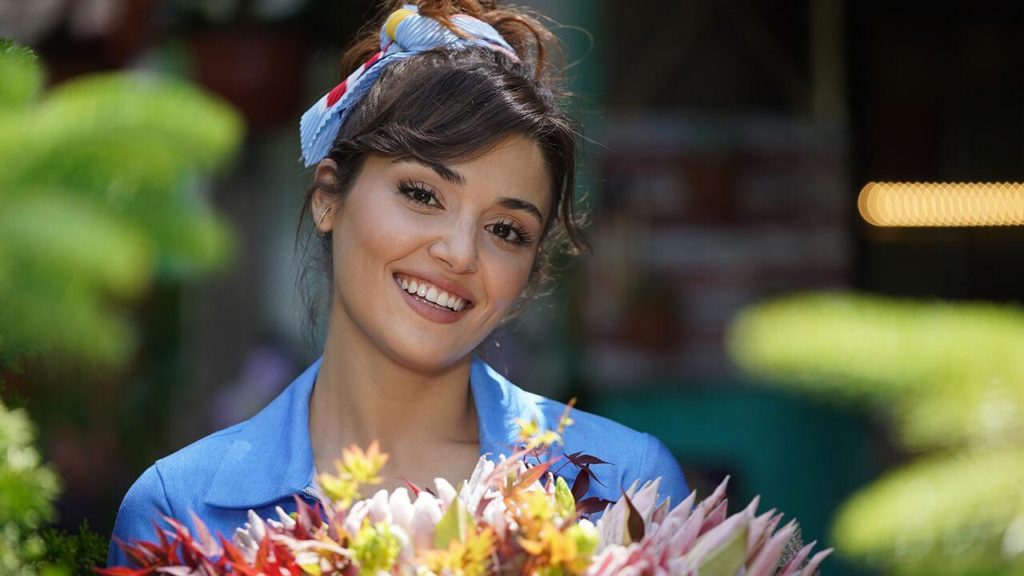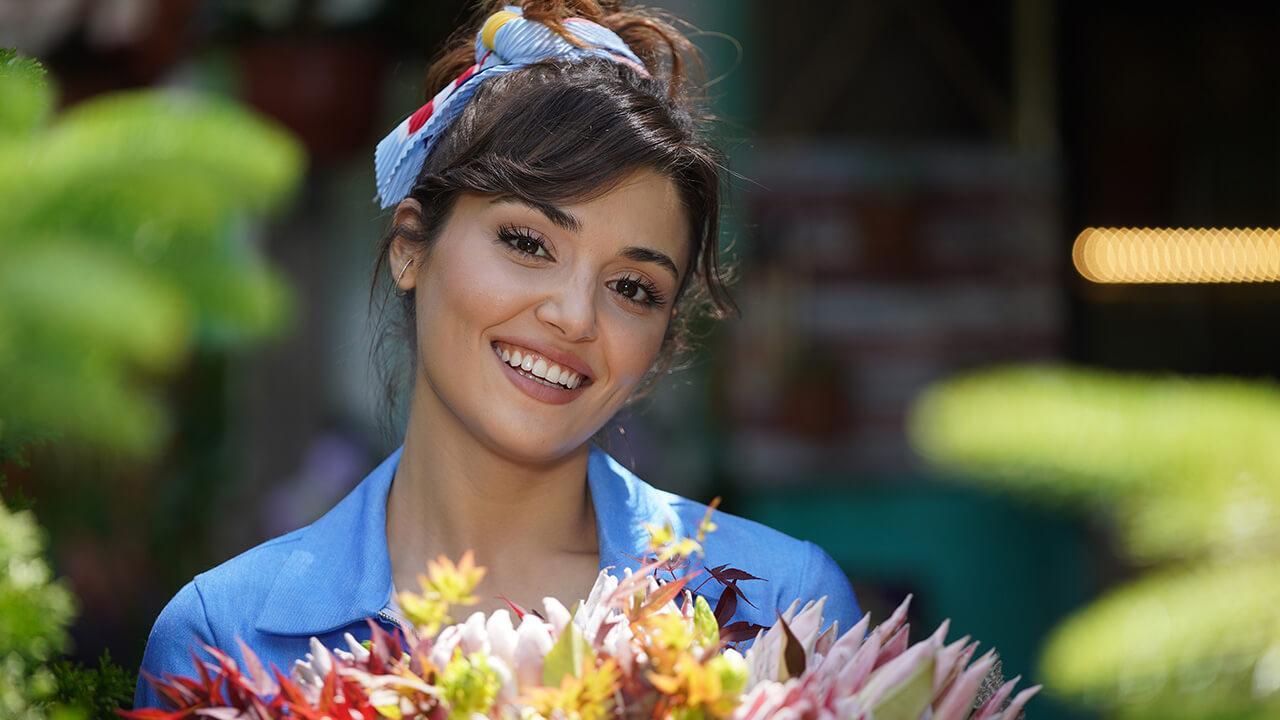 Eda lost her parents when she was very young. She continued her studies through scholarships. She has always been a brilliant student. In her final year of college, Eda was accepted to pursue her final year of studies in Italy. But with a guaranteed job upon graduation and a bright future ahead of her, Eda found herself without a degree and working as a florist in her aunt's shop. Eda blames a man for everything that has happened. Her dreams were shattered because of one man: Serkan Bolat.
Serkan is a businessman from a wealthy family who owns an architectural firm. A perfectionist who puts his work before everything else, the roads of Eda and Serkan will cross.
 Sen Çal Kapimi, summary of episode 1 of you knock my door dizi
At the beginning of episode 1 of the turkish series Sen Çal Kapimi, Eda has to join her boyfriend who is returning from Italy that day. Eda, having been deprived of her university year in Italy, her boyfriend had gone there alone.
Eda lives with her closest friend Melo (Melek). She has two other friends, Ceren, and Fiden.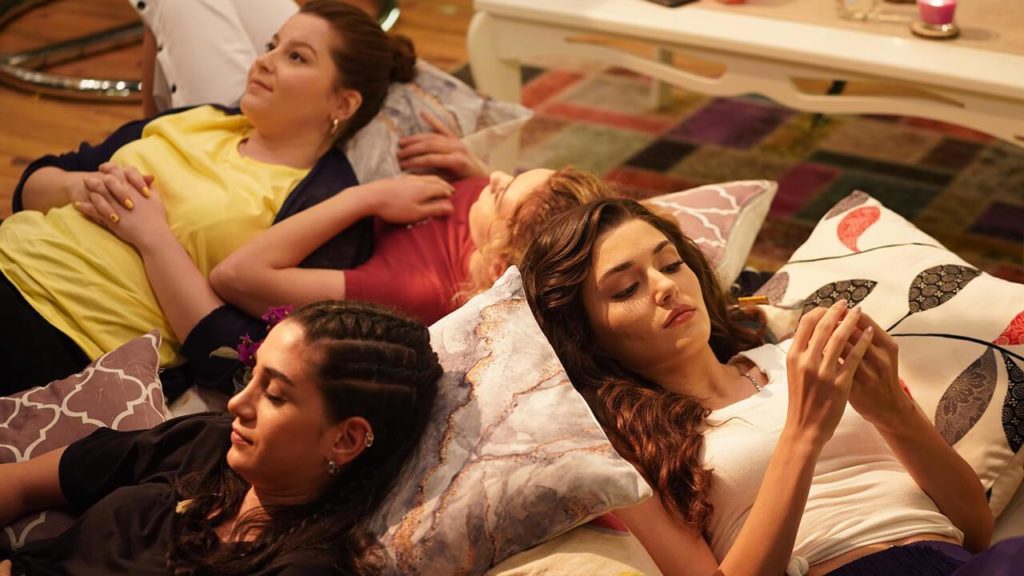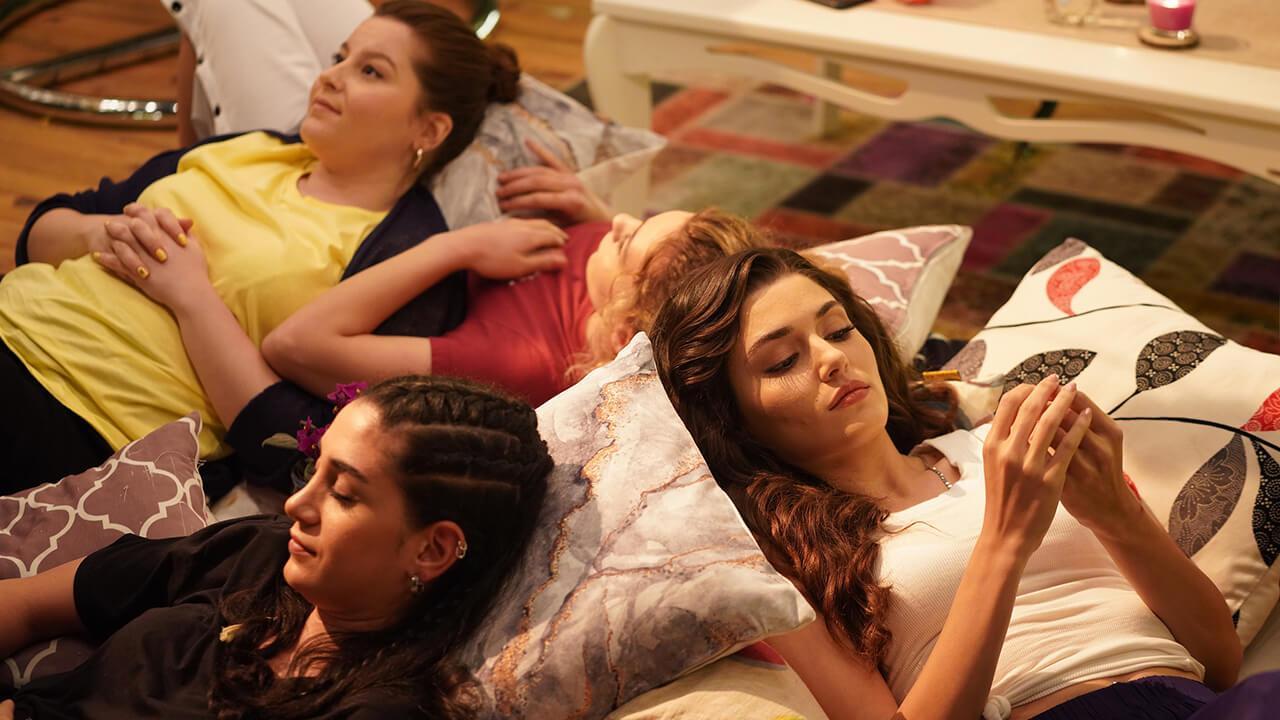 Eda's friends are planning to go to the university graduation ceremony that day. They try to get there without catching EDA's attention but she will discover it.
In fact, her friends did not tell her that they were going to the ceremony because Serkan Bolat was going to be the guest of honour and give a speech at the ceremony.
Meanwhile, Serkan goes to his office, where his secretary tells him that his ex-girlfriend, Selin, is getting engaged. She gives him the invitation card. The invitation comes with a pair of handcuffs.
While Serkan Bolat gives a speech to the graduate students, Eda intervenes to say that what he says is false. She stands up in front of the audience and tells Serkan that he's awarding scholarships and then canceling them. Serkan is surprised and does not understand.
Serkan and Eda, the first encounter in Sen çal Kapimi ep1
On leaving the graduation, Eda scratched Serkan's car with keys. But Serkan was in the vehicle and because of the smoked windows she didn't see him.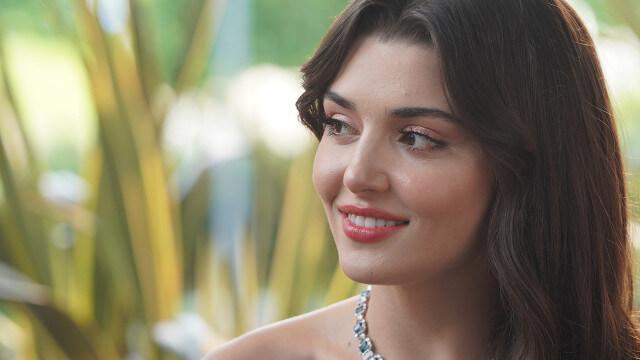 In this first episode of Sen Çal Kapimi, Serkan threatens Eda to sue her for damaging his car. Eda, seeing the handcuffs in Serkan's car, decides to handcuff him to her. She threatens to make a complaint against him for ruining his life!
Looking for the keys to the handcuffs in the invitation card, he can't find them. He has to go to an important meeting, so he goes there with Eda, while still handcuffed to her.
In Sen Çal Kapimi, you knock my door episode 1, Eda and Serkan pretend to be a couple on the meeting. Serkan plans to buy property from a man who doesn't want to sell it. Eda will finally convince the man to sell.
One of Eda's friends, Fiden, manages to open the handcuffs. Serkan and Eda separate, hoping to never cross each other's road again.
A little later, Eda realizes that she has left her purse and her mobile phone in Serkan's car. So she goes to Serkan's company to get them back.
Serkan, on the other hand, inquires and learns that the scholarships for studying abroad have indeed been cancelled by his company. So Eda was right.
Eda's roommate Melo has to work as a hostess on a private plane the next day. Unable to get there, she asks Eda to replace her.
But it turns out that it's Serdar who's on the plane that Eda is going to work on.
Sen Çal Kapimi, Episode 1: Serkan invents a love relationship
Serkan took a plane to his ex-girlfriend Selin's engagement party. He proposes to Eda not to wait at the airport, but rather to accompany him, so that she can wait at the seaside while he goes to Seline's engagement.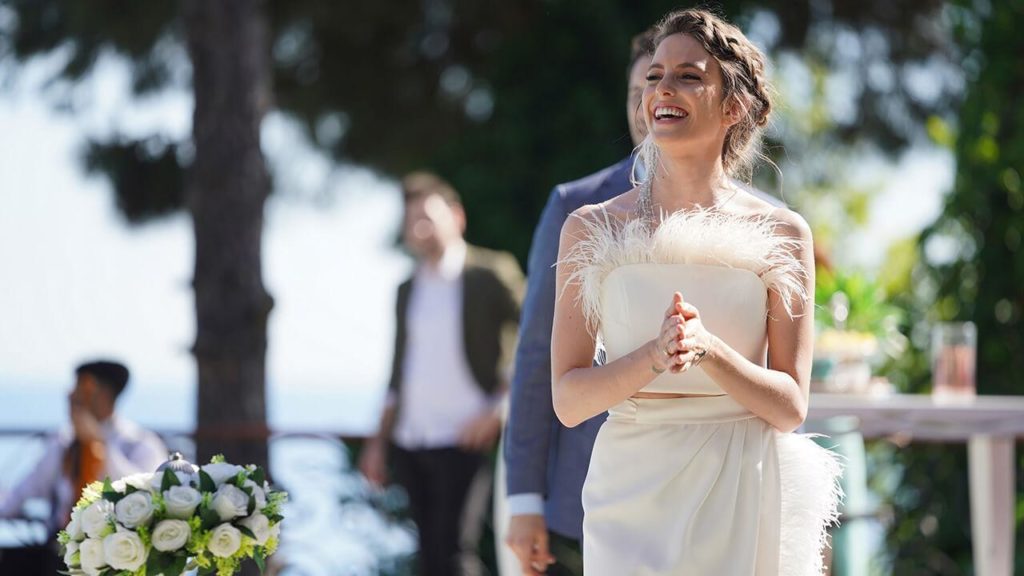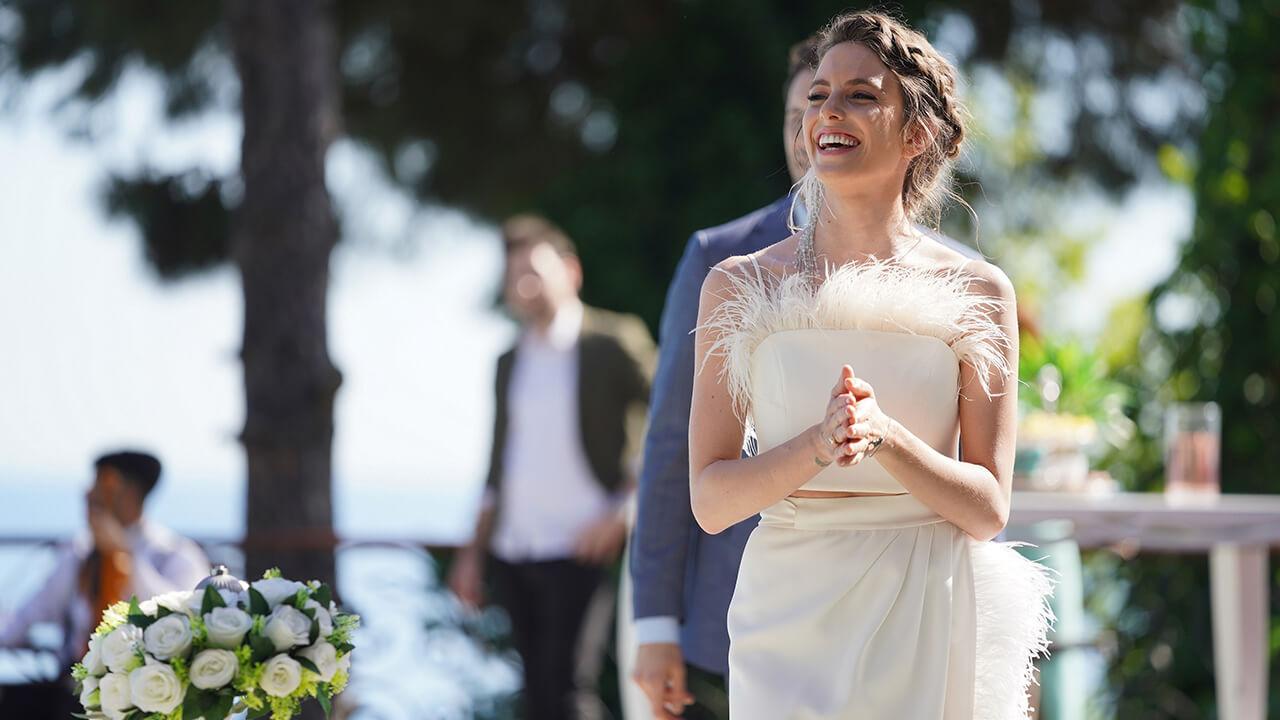 At the end of the evening, Serkan learns that Seline is getting married two months later. Although he has recently broken up with her. He will say, that he too has a woman in his life and that they're engaged to each other.
Serdar leaves the party and joins Eda on the beach. But Seline, her fiancé and other guests of the party follow him on the beach without him noticing.
In Sen Çal Kapimi, episode 1, Serkan will introduce Eda as his fiancée. Selin can't believe that Serkan committed to a relationship with a woman so quickly, even though they had a relationship that lasted for years and Selin left Serkan because he refused to engage with her.
Serkan is going to offer Eda a deal in Sen Çal Kapimi, episode 1, you knock my door. Signing a contract. They'll pretend they're engaged for two months until Seline's wedding. In exchange, Serkan will pay for Eda's college fees.
Eda refuses and slaps Serkan.
News of Serkan's new love affair will spread quickly. By the time Serkan and Eda got back on the plane and returned to Istanbul, the information had already been disseminated on social networks and journalists were waiting for them on the tarmac.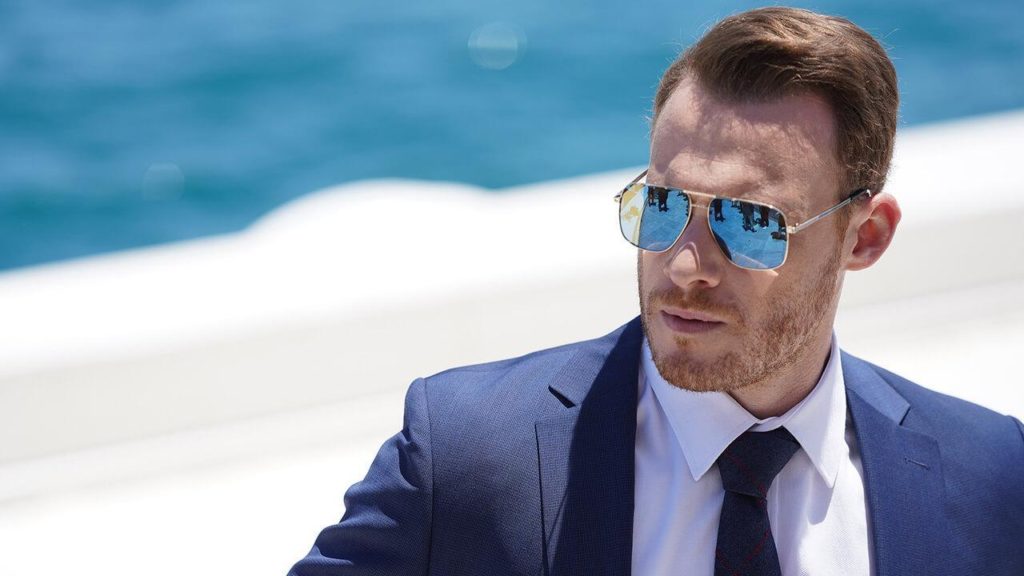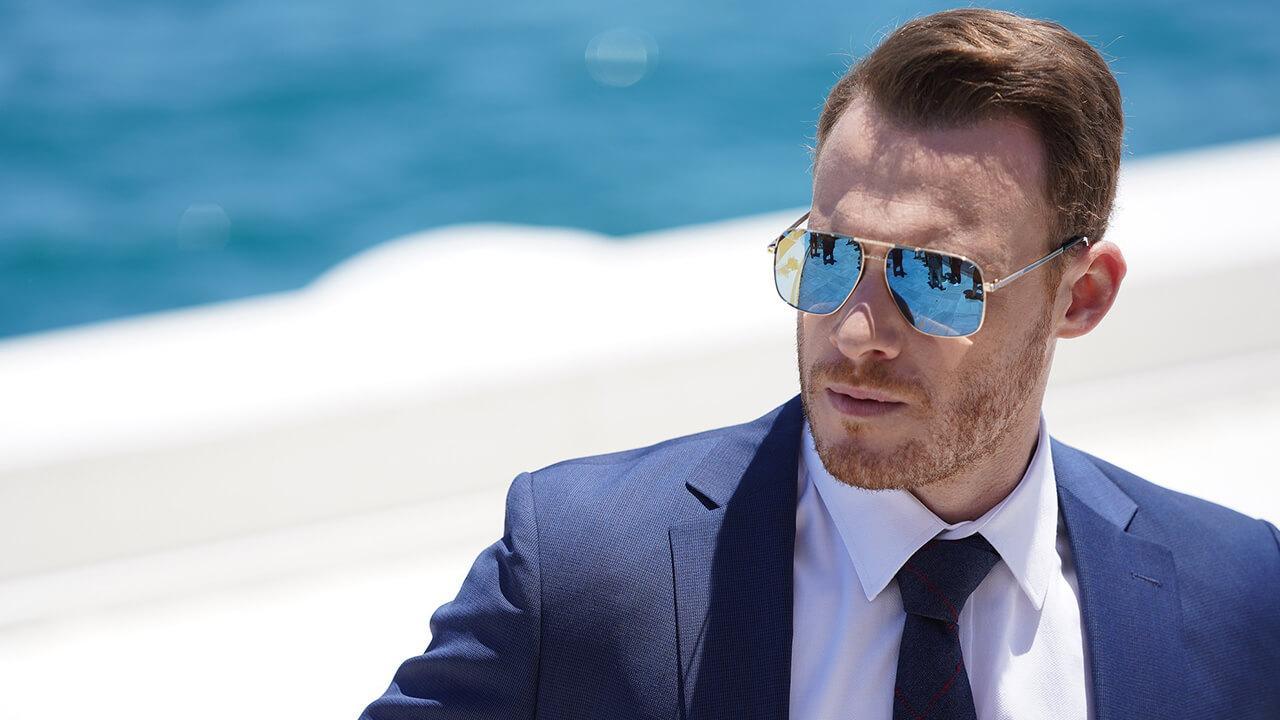 At the end of Episode 1 of the Sen Çal Kapimi series, you knock my door, Serkan decided to hold a press conference for the next day to talk about his company's new investment and took the opportunity to clarify things about the relationship. Serkan plans to say that Eda is his assistant and that the information about Eda being his fiancée is false.
The next day, Eda goes to the press conference with her friends, Melek, Fida and Ceren. Cenk, her boyfriend who has returned from Italy, asks to see her. Eda asks him to join her at the press conference.
Cenk and Eda talk before the press conference. He tells her that in reality, while he was in Italy, he met a woman and that he is leaving Eda.
Eda doesn't understand. When she asks Cenk if he is leaving her because of what has been said in the press about her and Serkan.
Eda explains to Cenk that what has been said is false. There is nothing between her and Serkan!
Cenk is going to denigrate her by saying that he knows that the information about the relationship between her and Serkan does not exist. They're not on the same level. Why would Serkan want her!
Every woman wants Serkan Bolat. Why would Serkan be with you?
Eda gets angry and at the end of episode 1 of Sen Çal Kapimi, while Serkan is speaking in front of the press, Eda joins him on the stage and kisses him.