Serkan is in shock and shows it. He doesn't appreciate the announcement by Selin and Ferit that they plan to get married a week later. Moreover, they plan to travel to Italy that evening and not deal with the wedding preparations. Serkan attacks Eda and tells her that she should be happy. Happy to hear that Selin is marrying Ferit. This will mean the end of their agreement!
Seeing the state Serkan is in, Eda is hurt without admitting it. Seeing Serkan's reaction, Eda tells herself that Serkan loves Selin.
In this episode 10 of Sen çal Kapimi, Serkan asks Eda to do everything she can to prevent Selin's marriage to Ferit. Aydan Hanim will propose to Eda to change her style in order to stir up Selin's jealousy.
Engin learns the truth in this episode 10
While Ceren and Engin argue ( kindly ), Ceren makes a mistake. Thinking that Engin knew about it and that Serkan had informed him that the relationship between Eda and Serkan was false, Ceren talks about the false engagement. Ceren understands that Engin does not know. Ceren confirms to him that Eda and Serkan are pretending to be engaged, but without giving him any further information. Ceren will tell Eda about the mistake she made.
Serkan and Eda claim they will get married in ep 10
Serkan had asked Eda to show up at the company to make Selin jealous. In this episode 10 of Sen çal Kapimi (Love is in the Air), they go to see Selin together. Serkan asks her to sign a marriage contract with Ferit. A marriage contract so that Ferit cannot claim any position in the family business after his marriage to Selin.
Selin refuses and in order to convince her, Eda tells her that it's nothing, since she and Serkan signed a contract before getting engaged. But Selin will answer Eda curtly, telling her that their agreement was about chocolate, whereas this is a more important subject!
Eda is offended and reacts by saying that she and Serkan have also signed a prenuptial agreement since they have also decided to get married!
Serkan can't believe it. Eda is going to convince Selin not to go to Italy before the wedding and that Aydan Hanim will help them choose their wedding dresses.
In addition, the two couples, Eda, Serkan, Selin and Ferit, are scheduled to give an interview at a shop.
News of Eda and Serkan's future marriage is spreading. First Melo and then the Art life team. Melo is in a hurry to tell Eda's aunt who is not going to take the news well.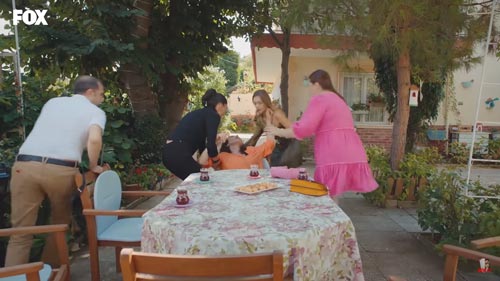 In this episode 10 of Sen çal Kapimi, Eda and Selin meet at Aydan Hanim's house to try on wedding dresses. Obviously, Aydan Hanim shows her preference for Selin. She tries to convince Selin to give up her decision to marry Ferit. As for Eda, she tries to stir up Selin's jealousy.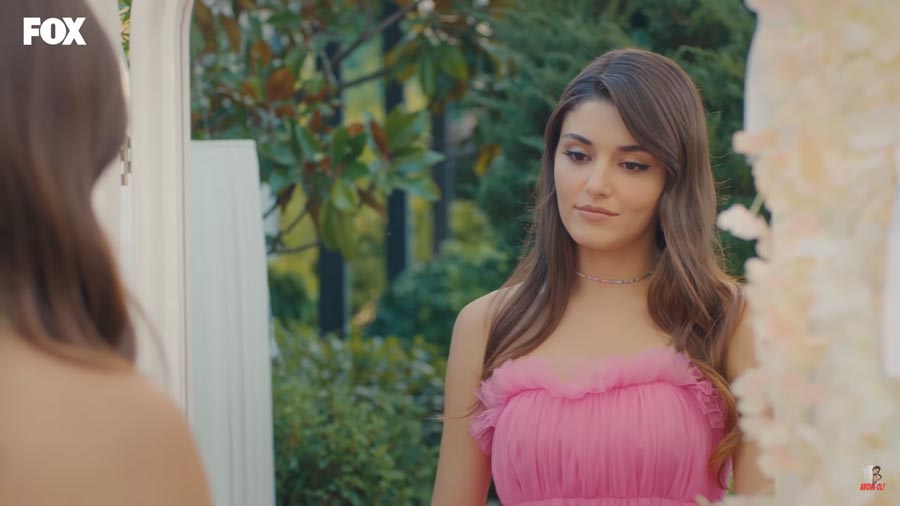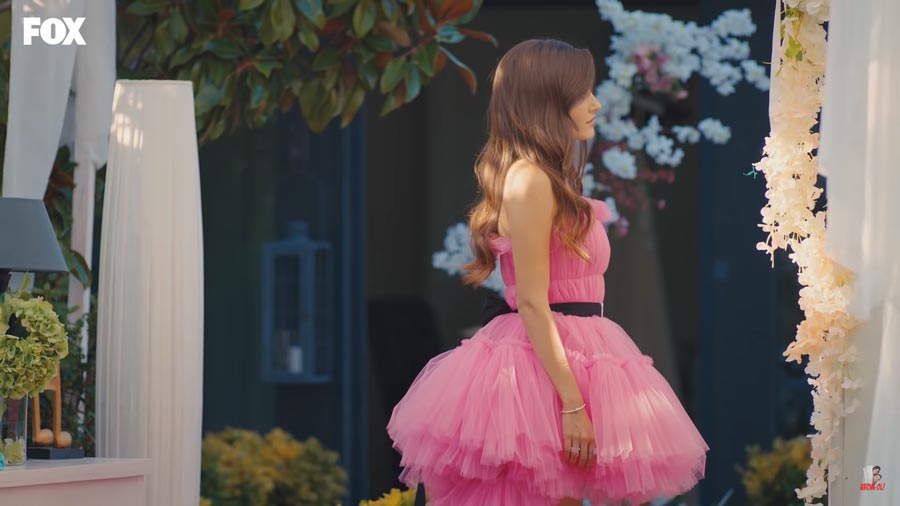 During the wedding dress fittings in episode 10, Eda will tell Selin that sometimes she thinks Serkan wants to be with her. She will tell her that Serkan told her that Selin was the perfect woman and that she had no faults. Selin is moved by what she hears.
Serkan will then join Eda and see her in her dress. He will tell her that she will make a beautiful bride.
Sen çal Kapimi ep 10 Serkan confesses to Engin the truth
At the end of the day, Engin will ask Serkan if his relationship with Eda is a game! He is going to tell him that it was Ceren who told him.
Serkan will therefore confess the truth to Engin and tell him that indeed his relationship with Eda is false. That they did it so that Selin would break up with Ferit!
But Engin is going to say that he saw how Serkan and Eda look at each other and that it wasn't an act.
The next day, a meeting is held at the Holding company. Ferit presents a project he has been working on. An agreement was reached with a foreign landscaper Efe Akman, but Serkan is opposed to the proposal. Ferit does not understand and tries to convince Serkan. But Serkan will raise some of the conditions in the contract with Efe Akaman. Serkan will explain to Ferit that these conditions are unacceptable and Serkan's father will confirm what his son says.
Ferit bought the company from Kaan. Selin is angry with him for not having told her about it before. Ferit is going to explain to her that in reality it is a deal with Kaan. He buys Kaan's company in exchange for which Kaan will not give Serkan the audio recording he owns (Audio recording about the pre-engagement contract that was released to the press).
In episode 10, Eda will organise a party to bring the two couples together. Her aim is to keep Ferit busy in order to keep her away from Selin and allow Serkan and Selin to talk alone.
The death of Eda's parents: She confides in Serkan. episode 10 of love is in the air
While they are alone waiting for Ferit and Selin to arrive, Serkan thanks Eda for taking his mother, Aydan Hanim, out of the house. Then, in this episode 10 of Sen çal Kapimi, Serkan asks Eda where her phobia of enclosed spaces comes from.
She is going to tell him about the trauma she experienced in her childhood that led to this situation.
She was six years old. Her parents were in another town and left her with her aunt. While she was waiting for her parents, Eda played and hid in a closet. Then her aunt got a call and started to scream and cry. She had received the news that Eda's parents had died. Serkan asked her if it was a car accident, but Eda will explain in this episode 10 of Sen çal Kapimi that it was an accident in the house they were in. The load-bearing wall had given way and the house had collapsed on them.
Little Eda was frightened when she heard her aunt's screams. In a panic, she couldn't get out of the closet. She was breathless and they finally found her when she was unconscious.
That evening, while Ferit and Eda are outside, Serkan and Selin are chatting by the fire. Serkan goes to confirm to Selin that he does not want her to marry Ferit. He doesn't trust him. Selin ends the discussion and leaves. At this point, Engin calls Serkan and Selin will listen to what Serkan tells him.
Engin calls Serkan to tell him what he is going through. He is obsessed with Pellin, but Ceren disturbs him. He wonders if he isn't in love with Pellin and Ceren at the same time.
Engin will tell Serkan that he must confess his feelings, and that he is in love with Eda without knowing it. He is always looking for a reason to go to Eda, he smiles in her presence. But Serkan is going to tell him that they have discussed it and that she has decided to chart her own course. Serkan explains to Engin that he won't hold back a person who wants to leave, even though he has hurt her in the past.
But while Serkan talks about Eda with Engin, Selin who hears the discussion thinks he is talking about her! Selin thinks that Serkan confides in Engin about his feelings towards her.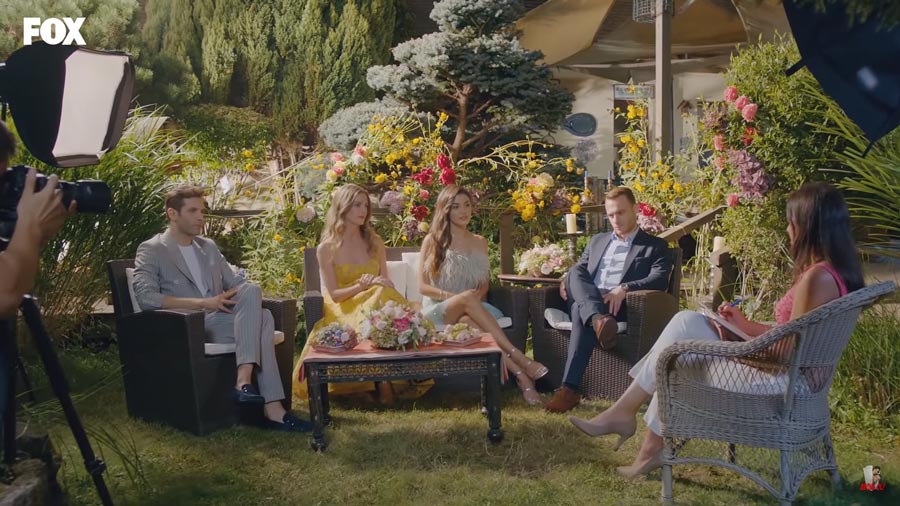 The next day, the meeting with the journalists is scheduled. A report about the future successors of the family holding. Eda is beautiful and Serkan doesn't hesitate to tell her.
At the end of the report, Selin speaks with Serkan. At the end of episode 10 of Sen çal Kapimi (love is in the air), Selin confesses to Serkan that she heard the discussion with Engin. She tells him that if there is any chance that she and Serkan will get back together, she is ready to leave Ferit the same day.
Eda hears the discussion between Serkan and Selin
Video of episode 10 of love is in the air
To watch episode 10 of Sen çal Kapimi (love is in the air) in straming on Youtube just click on the link below which leads to the official channel of Sen çal Kapimi. To see the episode 10 with the subtitles in english, there is a trick.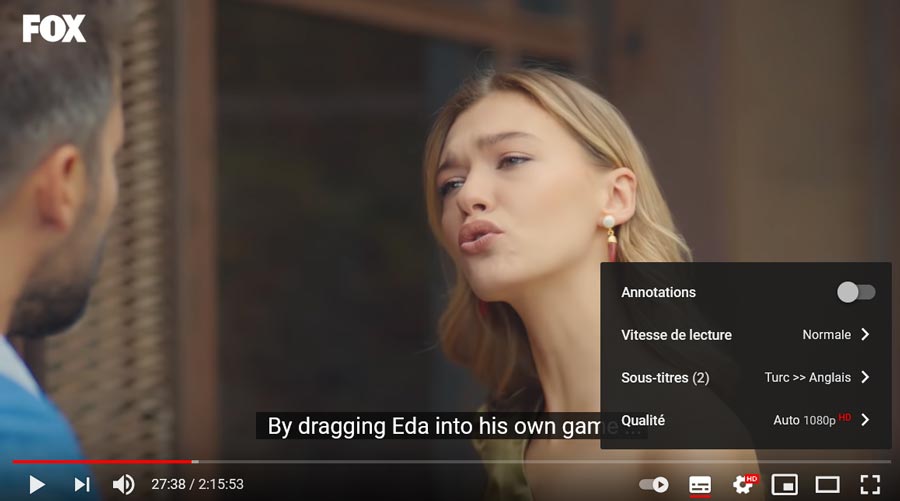 First you have to activate the subtitles of the video, of the episode 10, then click on the little wheel and choose "automatic translation". Then you just have to choose the English language in the list of available translations to see the episode 10 of love is in the air with english subs VOSTEN.
Click on the vidéo to access to the episode 10