In episode 5 of Sen çal Kapimi, the whole team goes to Antalya to sign a big contract. But when they arrive on the spot, their partners with whom they are supposed to sign the agreement are a couple who have decided to divorce, which puts into question the signing of the contract. Eda and Serkan are going to try to bring the couple closer together and prevent them from getting a divorce.
At the same time, Kaan Karadag is putting in place a plan to beat Serkan. Eda understands that she is beginning to have feelings for Serkan. At the same time Serkan realises that he is attracted to Eda.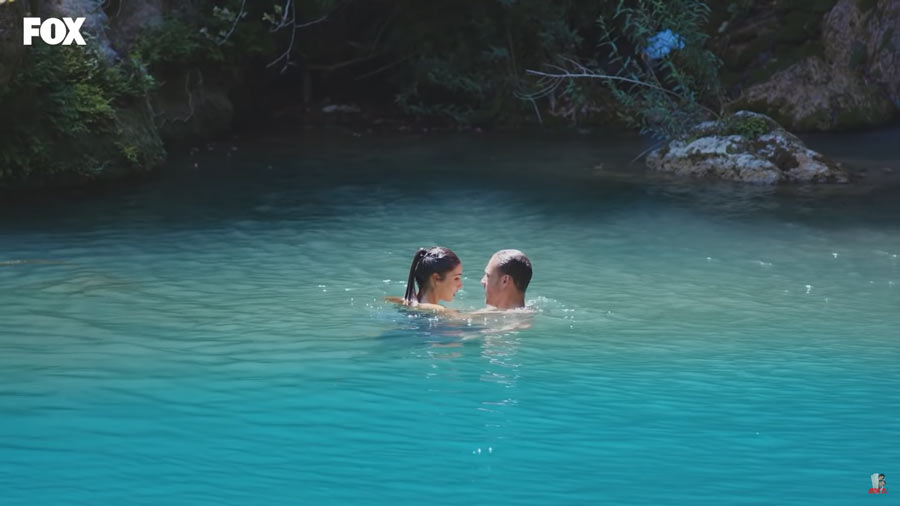 At the end of episode 4 of love is in the air (Sen çal Kapimi) Selin had found the contract signed by Serkan and Eda. But Eda had pulled it out of her hands and Selin had only been able to read the beginning of the document where it was written: " pre-engagement agreement ". Selin read aloud the beginning of the document in front of Ferit, Eda's aunt and Serkan's mother. Serkan will explain that it is a personal agreement between them.
Ferit is amused by the content of the document and takes a picture.
Serkan has to sign an agreement for a new project. The whole team has to travel to Antalya for the occasion. It is expected that Serkan will receive an architectural award during the stay in Antalya.
Once there Serkan thinks only about work, while Eda sees their trip as a holiday.
Ferit will talk to Kaan about the pre-engagement agreement between Serkan and Eda and send him the photo of the contract.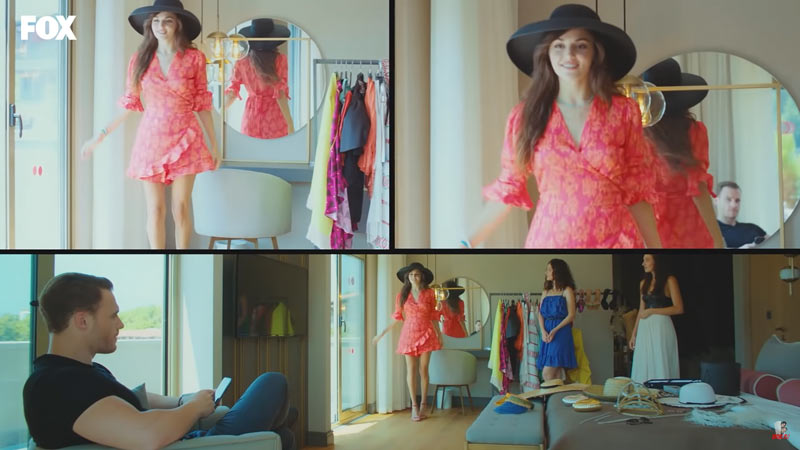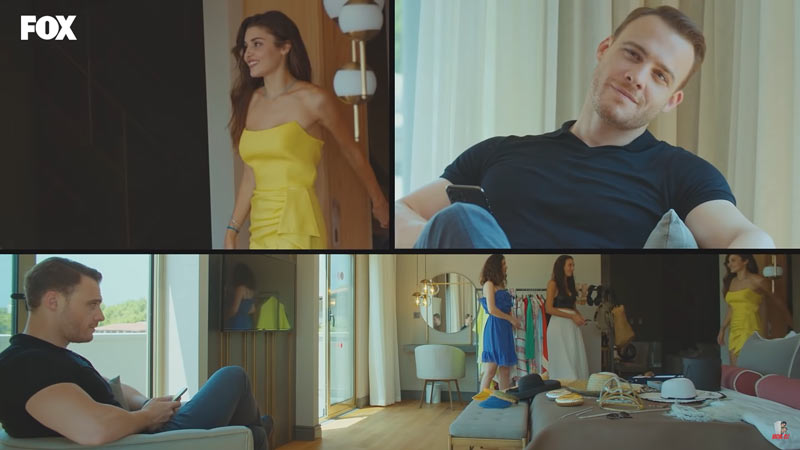 Eda, who thought she was going on holiday, didn't bring any evening clothes with her. So Serkan is going to make clothes available to her. The clothes are brought to Serkan's hotel room so that EDA can choose what she likes.
Serkan thinks only about work, while they are by the sea. Eda will finally convince him to take a break and go for a swim. They will then be joined by the rest of the team and will play volleyball on the beach.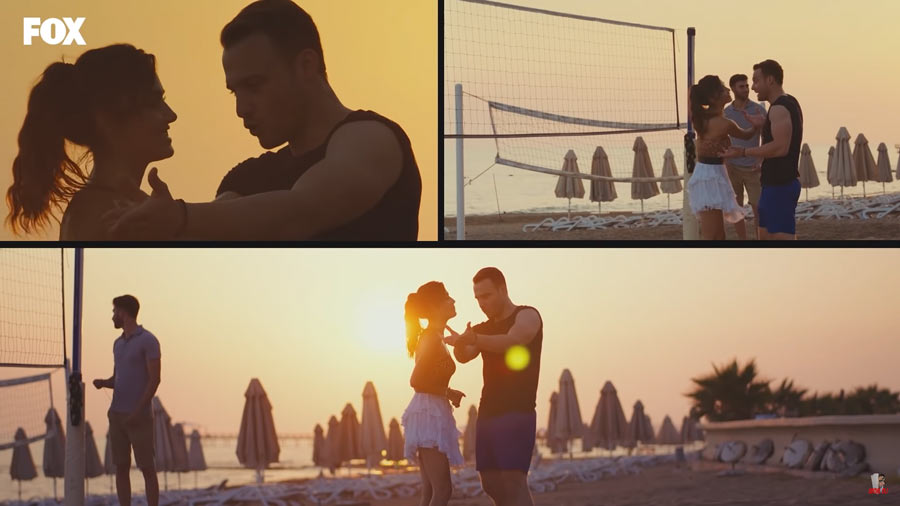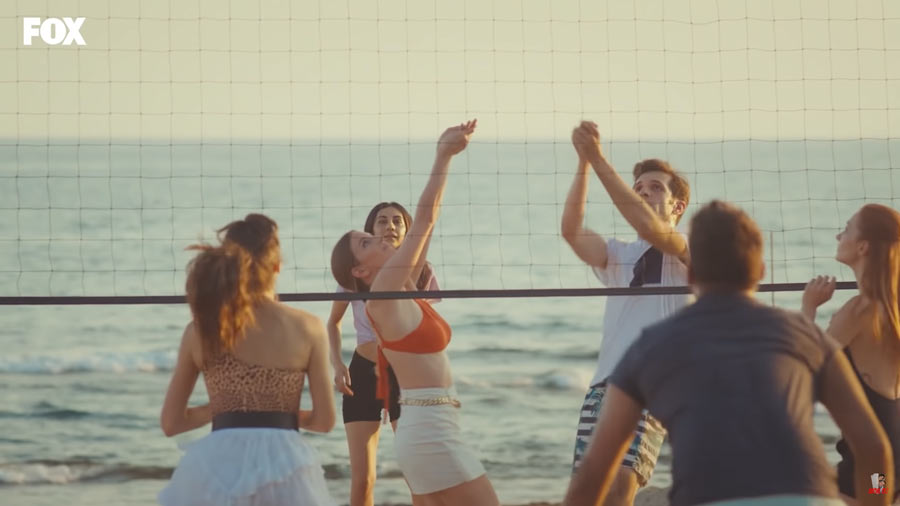 Kaan, who continues to get closer to Melo, asks her not to tell anyone about their relationship for the moment. He tells her that Serkan is obsessed with him.
The partners with whom Serkan was to sign a large Contract are married, but have decided to divorce. The wife refuses to sign the contract, which jeopardises the golf resort project on which Serkan has been working for several months and for which he has already bought the land.
Serkan decides to organise a dinner with Eda to try to convince the couple of associates. As Serkan and Eda talk with this couple, they realise that their relationship is similar to that of the business partners. The wife blames her husband for being addicted to his work and calls him "the robot" (as Eda calls Serkan). As for the husband, he blames his wife for being disorganised, moody and self-indulgent. (what Serkan reproaches to Eda).
In this episode 5 of Sen çal Kapimi (love is in the air), Eda and Serkan will get closer than ever. This trip to Antalya will allow them to be alone in an idyllic landscape.
Serkan will take Eda, visit a temple of Apollo in the middle of the night. Together they will observe a rain of falling stars and make wishes. The next day, Serkan will also show Eda an isolated waterfall where they will be able to swim and get closer.
But once back at the hotel, Peril will reproach him for having disappeared and he will blame himself for having taken this break from work.
On the family side, Serkan's father is going to meet Eda's aunt, in this 5th episode of Love is in the air (Sen çal Kapimi). When Serkan's father learns that his son has taken Eda with him to Antalya on a business trip, he understands that Eda is important to Serkan (Alptekin Bey, Serkan's father thinks that the relationship between his son and Eda is real). He therefore asks to meet Eda's aunt. Serkan's mother invites Eda's aunt for lunch, but Eda refuses and prefers that the meeting take place at her home. Seyfi goes to Eda's aunt's house to explain to her that Ayden Hanim suffers from agoraphobia. She can't go out of the house.
Eda's aunt accepted the invitation and went to Serkan's family, accompanied by Melo and Fifi. During this meal, Melo will be contacted for a job interview by videoconference. Her interview goes badly and she doesn't get the job she was applying for. Alptekin Bey, will offer her a job as an assistant in his company.
In Antalya, Serkan will receive an award for his career as an architect and his company Art life. The award ceremony is interrupted by journalists. This is a plan by Kaan. He gave a journalist the photo of Serkan and Eda's pre-engagement contract.
The journalists wrote that Eda is with Serkan for his money and that's why Serkan made her sign a contract.
As Serkan speaks on stage, Selin will ask Eda to speak to the journalists. She asks her to speak about what she is accused of. Eda feels responsible and decides to talk to the journalists. But as she heads towards the journalists, Serkan catches her.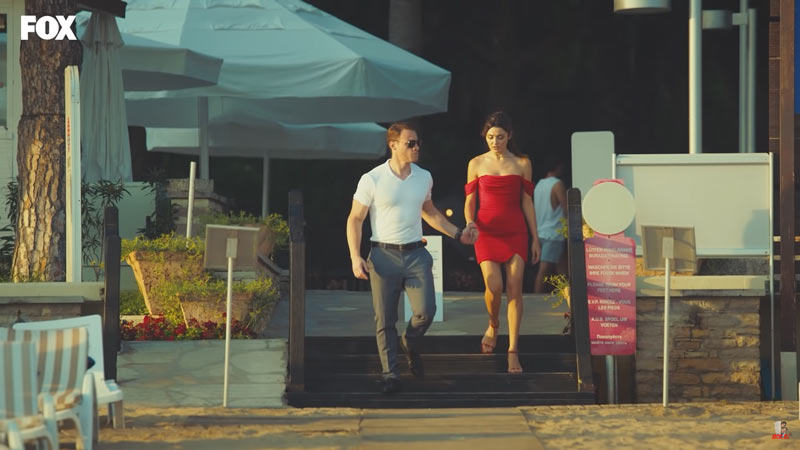 At the end of episode 5 of Sen çal Kapimi, Serkan takes Eda by the hand and takes her to the beach where he will hold her in his arms. He had finally planned a boat trip on the open sea for Eda. She had wished to go on a boat trip and Serkan wanted to fulfil her wish.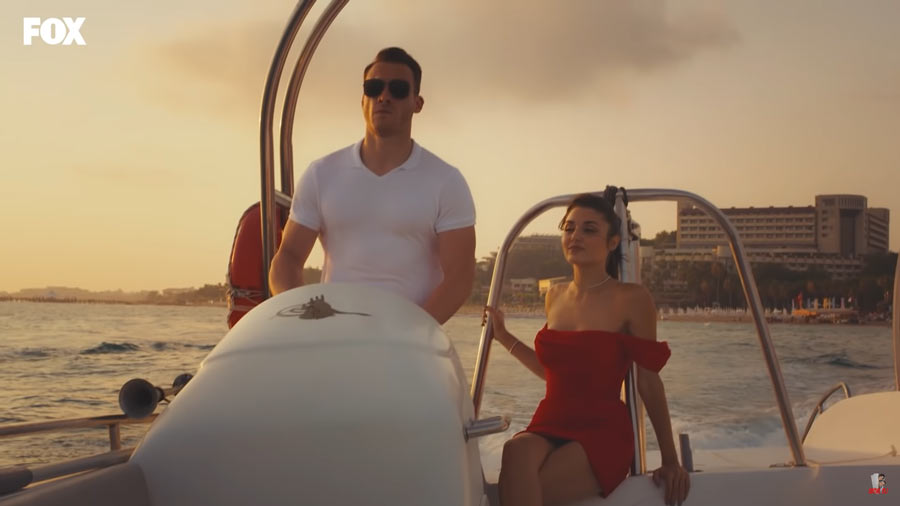 The ending scene of Sen çal Kapimi's episode 5 is absolutely beautiful. Eda and Serkan are on a small boat on the open sea at sunset with Music Gold by Tolan Show.