Turkish actor Ibrahim Çelikkol's name has gone viral in the last 48 hours. Photos of him fighting the flames have been shared tens of thousands of times. Ibrahim Çelikkol can be seen wearing a fireman's outfit and holding a hose in the middle of a blaze.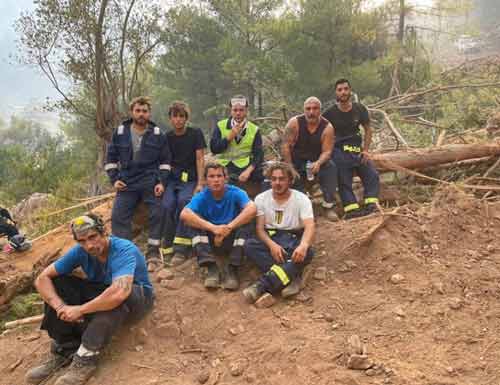 Turkey is currently experiencing terrible fires that are destroying forests, leaving desolation and ruin. Entire villages have been destroyed by the flames.
It is in these circumstances that actor Ibrahim Çelikkol joined the fight started by volunteers at various fire sites. The 39-year-old Turkish actor and father did not just share or relay appeals on social networks.
Ibrahim Çelikkol preferred to fight on the ground, joining the firefighters and volunteers who were fighting the fire.
The actor was on holiday with his family when he decided to go to the Marmaris Fire Department to offer his help.
Singer Mustafa Sandal shared photos and videos on his Instagram account of actor Ibrahim Çelikkol in the middle of the blaze with other volunteers trying to extinguish the fire in the Ören forest which threatened to spread to other areas and especially to the nearby thermal power plant.
In the message shared by Mustafa Sandal he explains that Ibrahim Çelikkol is with Onur Yilmaz:
"I am in Göcek and the roads are closed, I have no chance to reach the place. My dear brothers Onur Yilmaz and Ibrahim Çelikkol have volunteered to fight the Ören (Milas/marmaris) fire. I share with you the messages and videos they sent me. The fire is close to the thermal power plant and they say that the situation is serious. Let's not let this happen.
I ask the authorities to intervene urgently.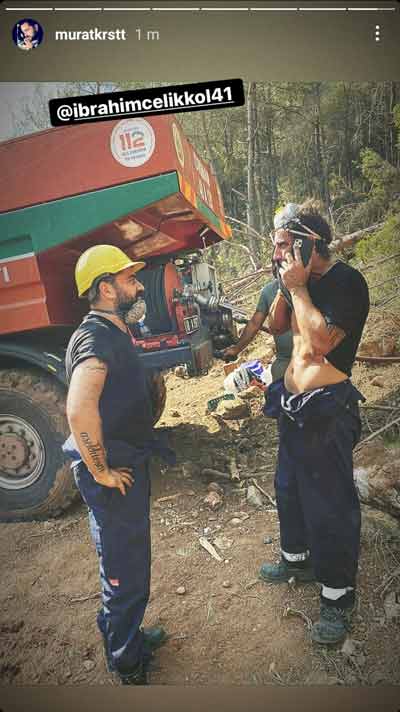 Photos and videos of Ibrahim Çelikkol in a firefighter's outfit amidst the flames have gone viral on social networks with thousands of shares.
Ibrahim Çelikkol's name was trending on Twitter in Turkey and around the world for several hours.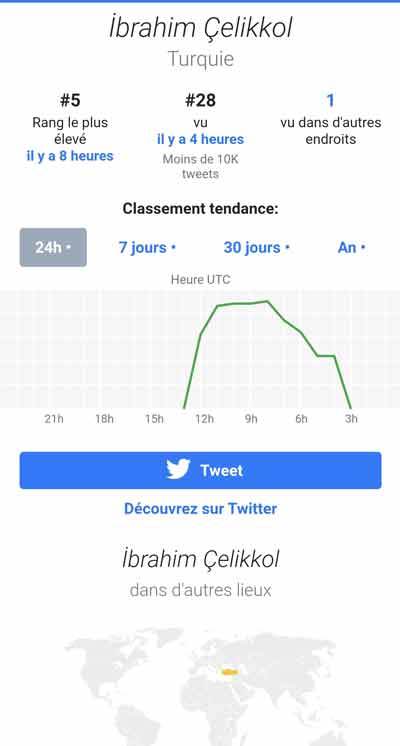 The same goes for Google searches in Turkey, where the Turkish actor's name broke records on 3 August at 11pm.

Since the images were released, people on social networks have been thanking the Turkish actor for his act of bravery and commitment, as well as all the people fighting the fires that have been ravaging Turkey for the past few days.
In a post on his Instagram account yesterday, Mustafa Sandal shared a message from Ibrahim Çelikkol
"There is a message from my brothers Ibrahim and Onur. We can't follow everything that is written, but (our brother) Mustafa passed on your wishes and prayers.
Thanks to your prayers last night, we saved a mountain in Turgut.
We appreciate your prayers. We are a bit tired, we are now taking a short break to breathe. May Allah bless you all. We and our friends continue to work with all our strength.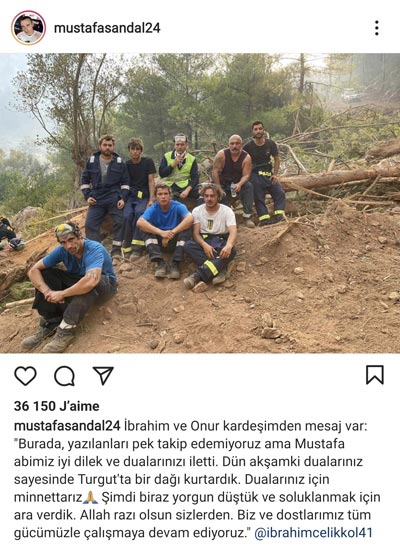 Ibrahim Çelikkol will soon appear on screen in the series Bir Zamanlar çukurova.