In this episode 6 of Sen çal Kapimi, while Eda thinks they have gotten closer she and Serkan. Serkan disappears the next day. While she tries to find out where he is, she learns that only Selin knows. This exasperates Eda, while Selin is happy with the situation. While Serkan is away, in this episode 6 of Sen çal Kapimi, Eda promises an important client that she will complete an impossible task within 24 hours. When Serkan returns to the office and finds out what Eda has done, he leaves her to fend for herself and forbids the agency's employees to help Eda. But at the end of episode 6 of Sen çal Kapimi, Eda and Serkan end up falling asleep in each other's arms.
episode 6 of Sen çal Kapimi, full summary
At the end of episode 5 of Sen çal Kapimi, when Serkan was receiving an award for his career as an architect, the journalists had published an excerpt from Eda and Serkan's pre-engagement contract. The articles published accused Eda of getting engaged to Serkan for his money and that is why Serkan made her sign the contract. But just as Eda was about to talk to the paparazzi Serkan caught up with her, took her in his arms and took her for a sea trip on a boat, away from the journalists. Serkan wants to find the person who gave the contract to the journalists and he asks Selin to take care of it.
At the beginning of episode 6 of Sen çal Kapimi, the whole team is back in Istanbul. Eda learns that Melo has been hired by Alptekin bey to work in the company.
Serkan's special day
On the way to the office, Eda learns that Serkan will not come to the office that day. Every year, that very day is the day Serkan does not come to work. The day Serkan is absent but no one in the company knows why he is absent. Eda will learn that only Selin knows, which will of course make Eda jealous.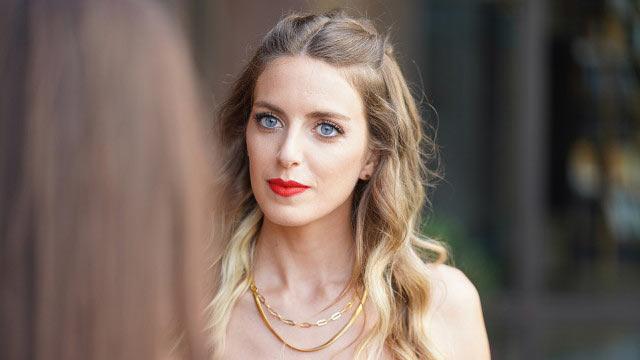 While the whole team is in a meeting, an important client of the company arrives. Eda receives him. He explains that he wants to organise a birthday party for his wife, and that he has invited his wife's favourite singer from abroad. This singer does not want to spend her stay in a hotel, but in a house and she has established a very long list of criteria. The client therefore asks the "Art life" team to redecorate a house according to the singer's criteria within 48 hours.
A difficult mission for Eda in Sen çal kapimi ep6
while Engin and Peril ask Eda to refuse the client's request because it is impossible to do it within the time limit, Eda will be affected by the client's story. He is going to explain to Eda why this party is important for him and his wife. His wife has been seriously ill, and he promised her that if she could beat the illness, he would bring the singer to Turkey for her birthday. Eda, touched by the story, will accept this client's request.
Surprisingly, Serkan finally comes to the office and learns that Eda has accepted the client's request.
Serkan asks Eda to call the customer to explain that this is impossible, but Eda refuses. Eda and Serkan argue. Serkan wants to teach Eda a lesson and leaves her to fend for herself. He forbids the company's employees to help her. She will have to fend for herself.
Eda tries to find out from Selin about this special day for Serkan. She asks her why this day is special for Serkan. Selin tells her that only she knows what this day means to Serkan and that he told her a long time ago. Selin will then tell Eda that even though she is his fiancée, he only shares these special things with people who are special to him (the people he is closest to).
The singer's manager contacts Eda to check if the house is ready. They are going to meet in a park, but at that moment Leyla, Serkan's assistant, calls her to check on the progress of the work. So Leyla sees Eda with the manager in a park. Leyla then tells Serkan that Eda is with a handsome man in the park. Serkan is annoyed and tries not to show anything. Serkan is jealous, but doesn't realise it.
Eda is going to ask Ayden Hanim, Serkan's mother to help her with the decoration of the house. She will agree to help her.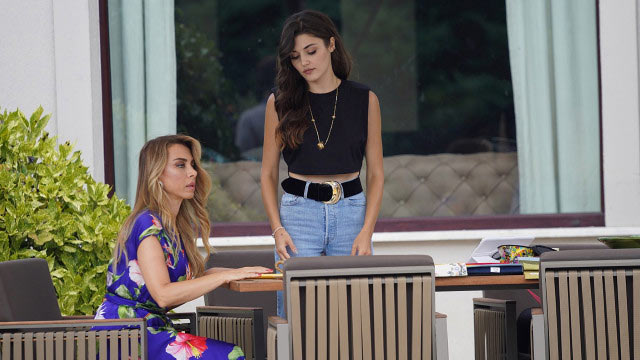 Serkan will visit the house to prevent the client from seeing the house before the work is finished. On arriving at the site, Eda finds the singer's manager. He has seen the house as it is and realises that the project can never be completed on time. He tells Eda that he will inform the singer. Eda is disappointed to have failed.
When she has lost hope, Serkan arrives and comforts Eda. He brings reinforcements with him and decides to help her. Serkan and Eda work together to finish the house on time.
Serkan et Eda get closer in love is in the air ep 6
Eda always tries to find out why Serkan doesn't come to work on this day, every year he is absent on 19 August.
Serkan will finally tell Eda the truth. He will explain to her that he had an older brother who died a few years earlier. Serkan tells Eda that this older brother was in a music band and that on August 19th of the year of his death he gave him a guitar and told him to practice playing. And so every year since his brother's death Serkan has gone away on the 19th of August to play guitar where his brother used to play.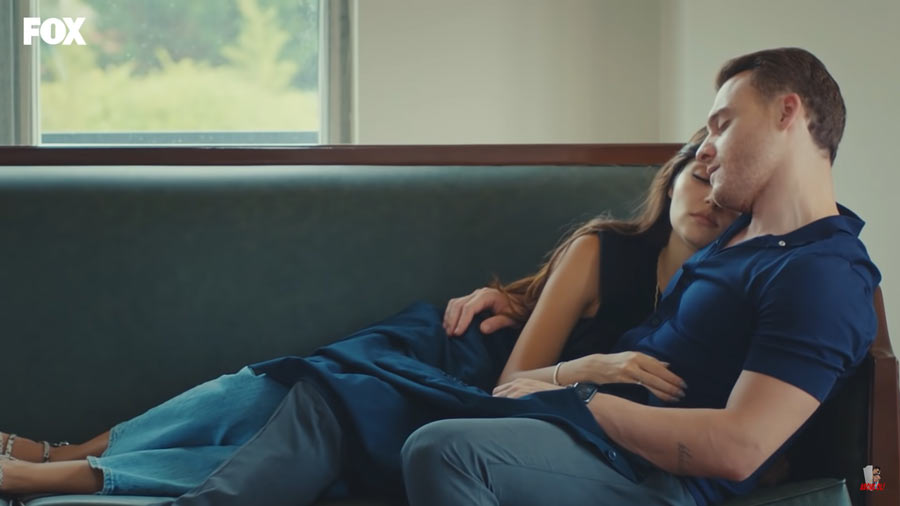 That evening Eda and Serkan will fall asleep in each other's arms. When he wakes up, Serkan sees Eda in his arms and his heart rate increases. His watch starts ringing and Serkan is embarrassed (Serkan's watch is set to monitor his heart rate).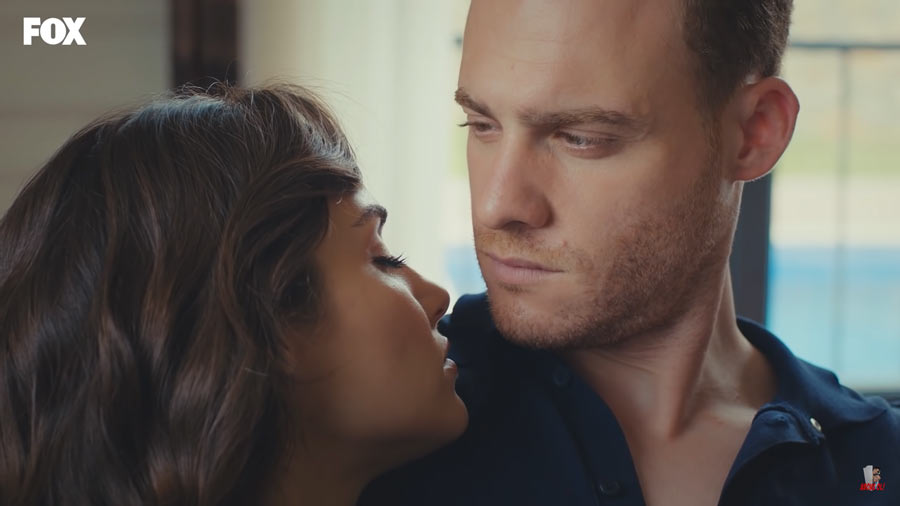 After learning that it was her fiancé, Ferit, who leaked the information about the pre-engagement contract between Serkan and Eda, she decides to keep the information from Serkan in order to protect Ferit.
The next morning, the house was ready and Serkan chartered a private plane to bring the singer. Sevda, the singer discovers the house decorated by Eda and the team. The singer does not like the house and considers that all the conditions that were listed in the contract have not been respected (material of the curtains… size of the cushions… etc.). She therefore refuses to sing for the party. But as she is about to leave, Eda catches up with her and tells her the four truths. After 20 minutes with Eda, the singer enters the house again and announces to the team that she finally agrees to sing.
Eda who discovers that Ayden Hanim cannot get out of the house decides to help her. While Ayden Hanim suffers from headaches, Eda offers to massage her skull which will help Hayden Hanim to relax. Eda will then blindfold her and make her walk, making her talk about subjects that make her feel confident. Eda will then take Ayden Hanim outside the house without her noticing. Seyfi will witness the scene and will be deeply touched to see this. Eda asks Seyfi to say nothing. In this episode 6 of Sen çal Kapimi, Ayden Hanim manages to leave her house for the first time.
Eda will then prepare a video for Aydan Hanim, with the images from the video surveillance. Seeing the video of herself coming out of the house, Ayden Hanim collapses in tears.
As for Eda and Serkan, since Eda succeeded in her bet and the house was ready on time she has the right to ask Serkan for whatever she wants. She is going to ask him to play the guitar for her. So Serkan is going to take her to the place where he retires every 19th of August (the place that only Selin knows) and is going to play a piece of music for Eda. On leaving there, at the end of episode 6 of Sen çal Kapimi, Eda and Serkan embrace each other, and Selin watches them from a distance.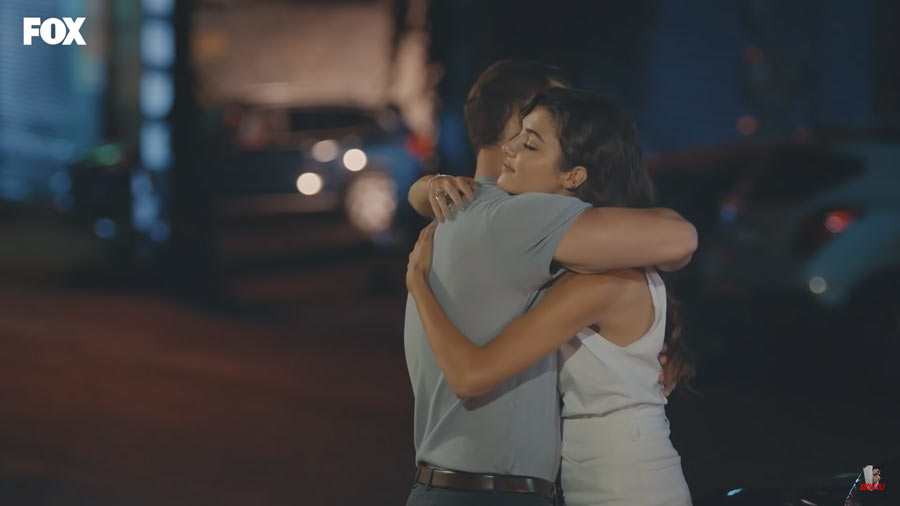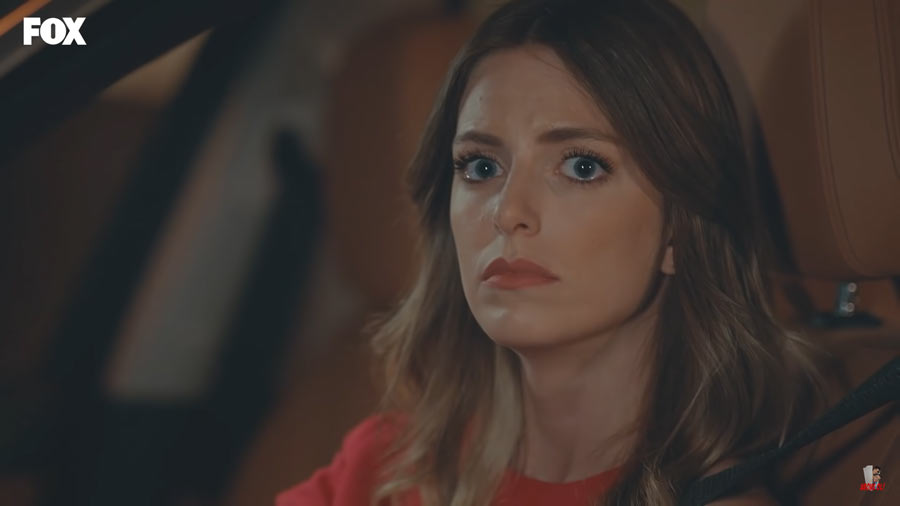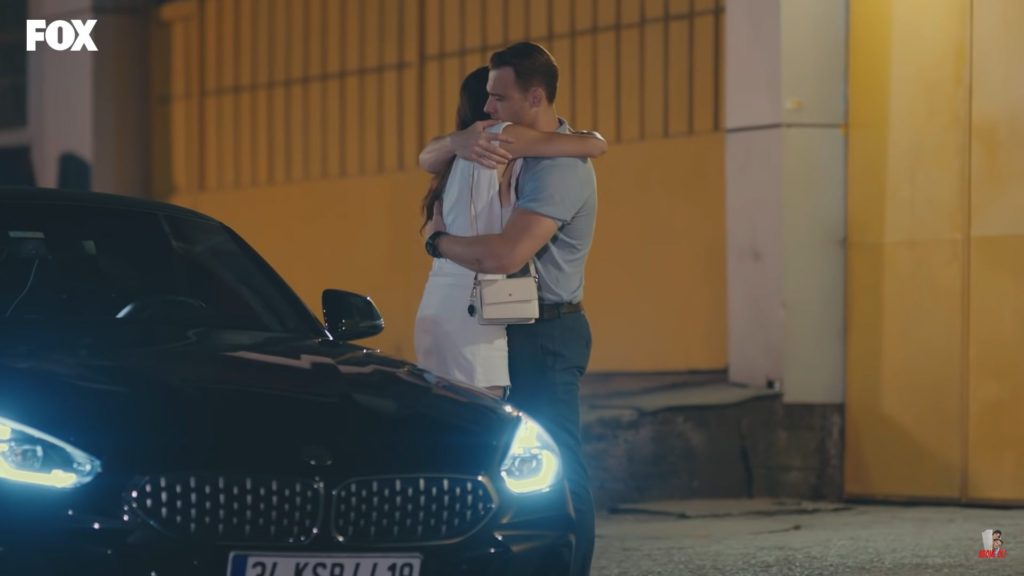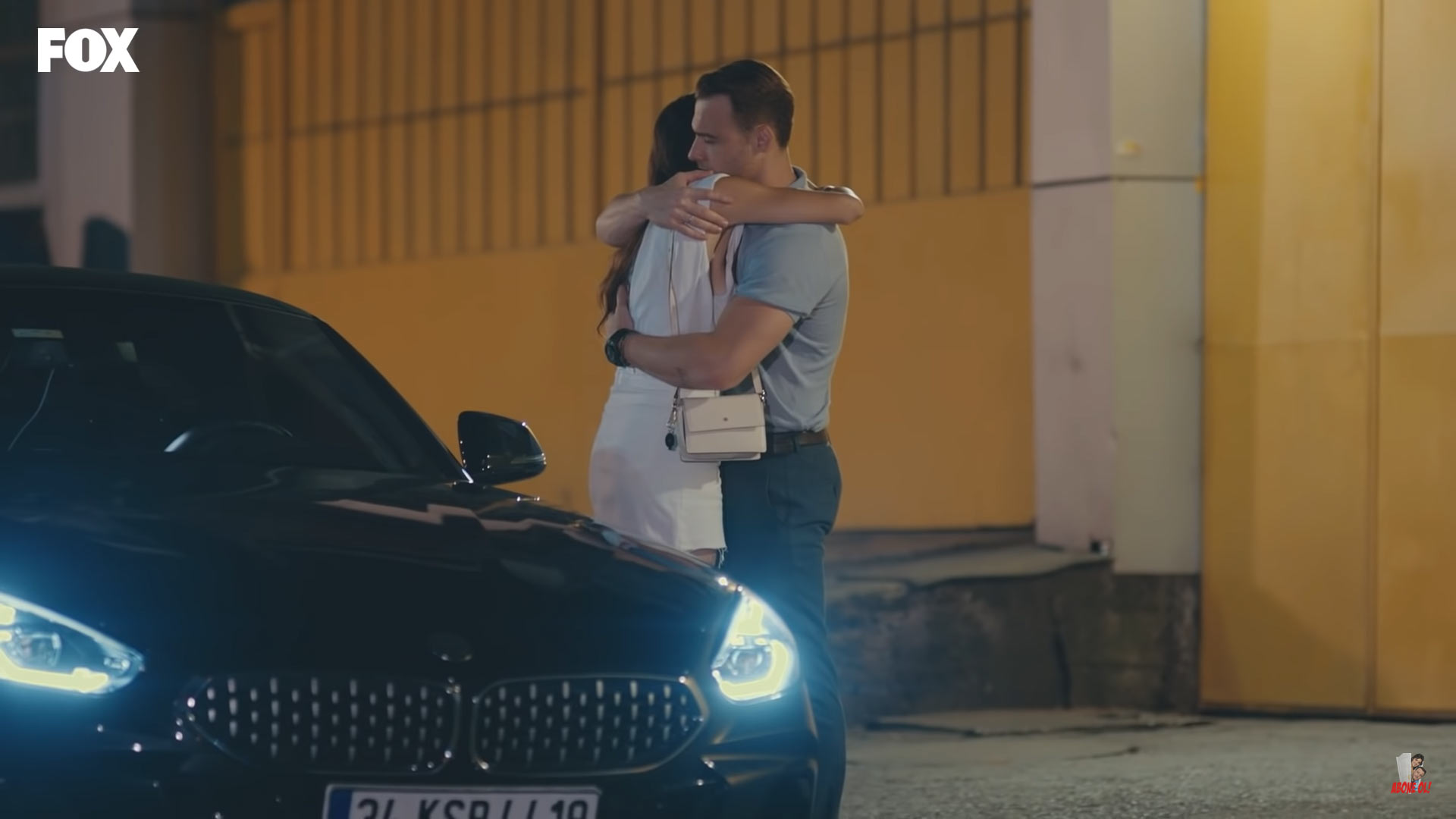 Watch episode 6 of Sen çal Kapimi online on youtube
To watch episode 6 of Sen çal Kapimi online on Youtube, subtitled in English, just go to Sen çal Kapimi's official channel and activate the Turkish subtitles first.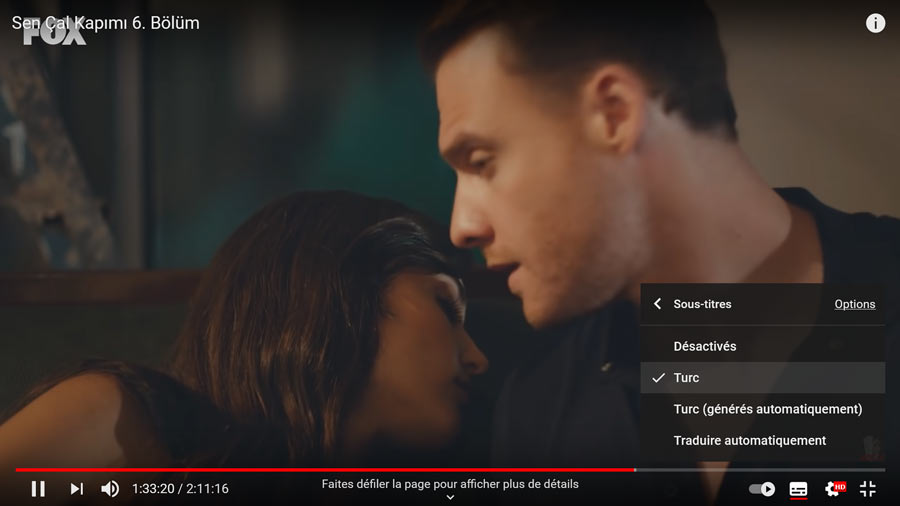 Then when the video of episode 6 of Sen çal Kapimi starts, click on the little wheel and choose the option subtitles and automatic translation.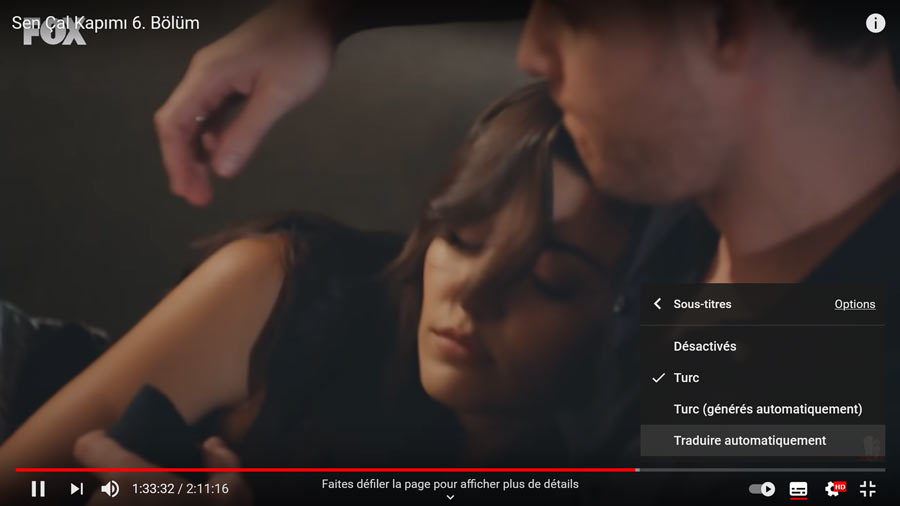 Then just choose english to watch the episode 6 of sen çal kapimi with english subtitles on youtube.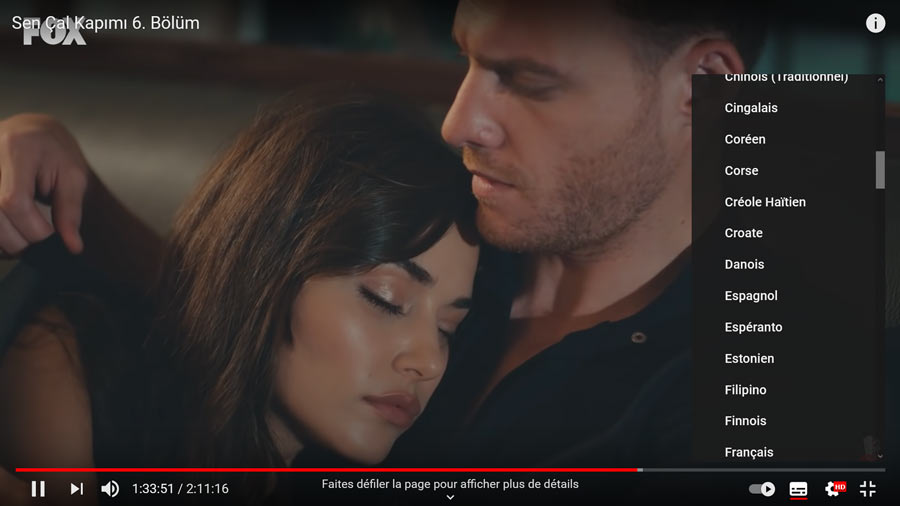 Here is the video of episode 6